What we do?
1. Assessing your R&D Maturity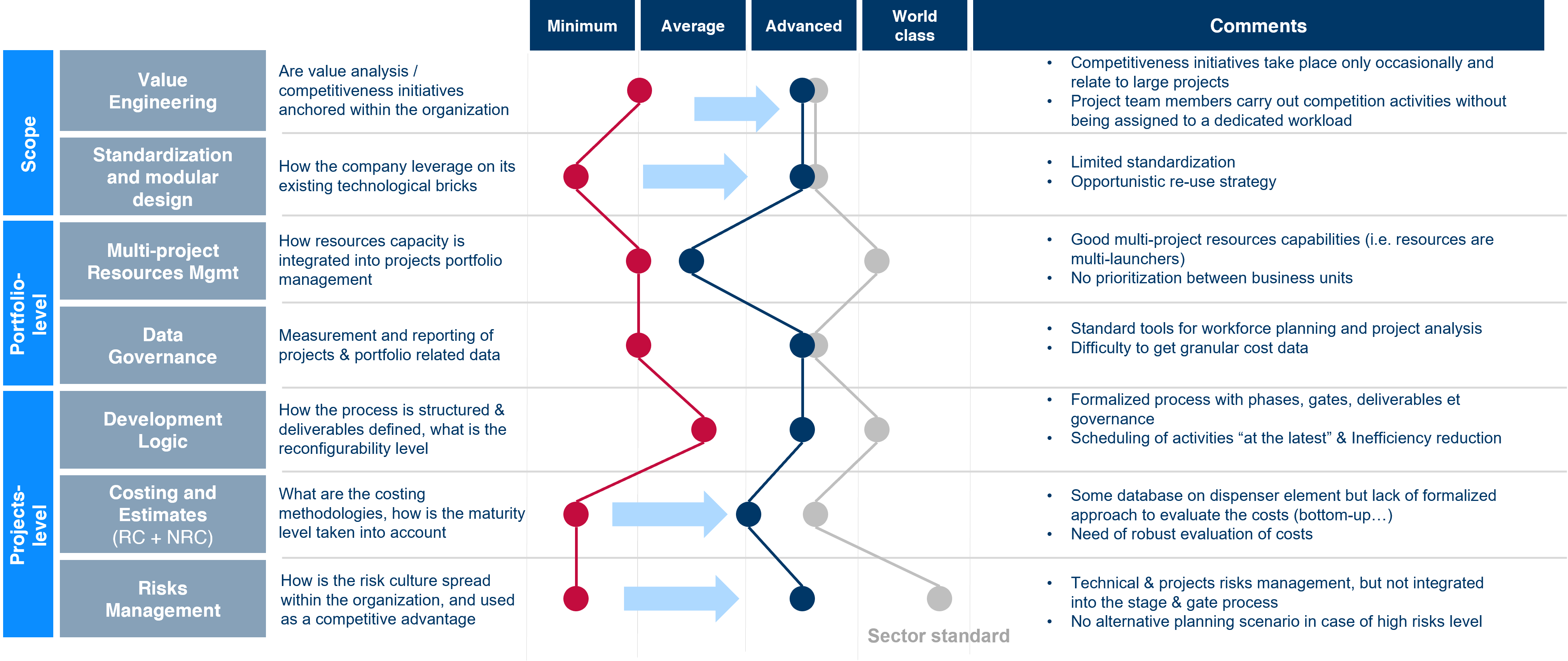 Our holistic R&D Maturity framework, combines several axes of analysis :
Analyzing the practices on the Development scope (Value Engineering, Re-use Strategy)
Development process (Multi-Project Management, Lifecycle Management, Reporting Management, Risk Management, IT solutions)
People empowerment (Talents Management) build the starting point for a transformation
In addition, we have a strong database of benchmarks from industrials, enabling to compare maturity levels and share best-in-class practices from peers and other industries. We bring experienced teams; and combine on field interviews with data crunching to build a fact-based evaluation.
2. Building a global R&D progress plan

We help our clients to design and put in place new ways of working i.e. new Engineering organization & practices, new Projects Portfolio Management, or Teams empowerment. Change management is key. We build on X-functional and X-sites task forces, lead strategic workshops to shape the vision, and bring concrete deliverables, on-field communication, and support. We measure successes trough Engineering-related KPIs at each level of the organization. IAC sustain the change; we know how to set and drive R&D Communities of practices to foster social learning.
3. Improving Projects Portfolio Efficiency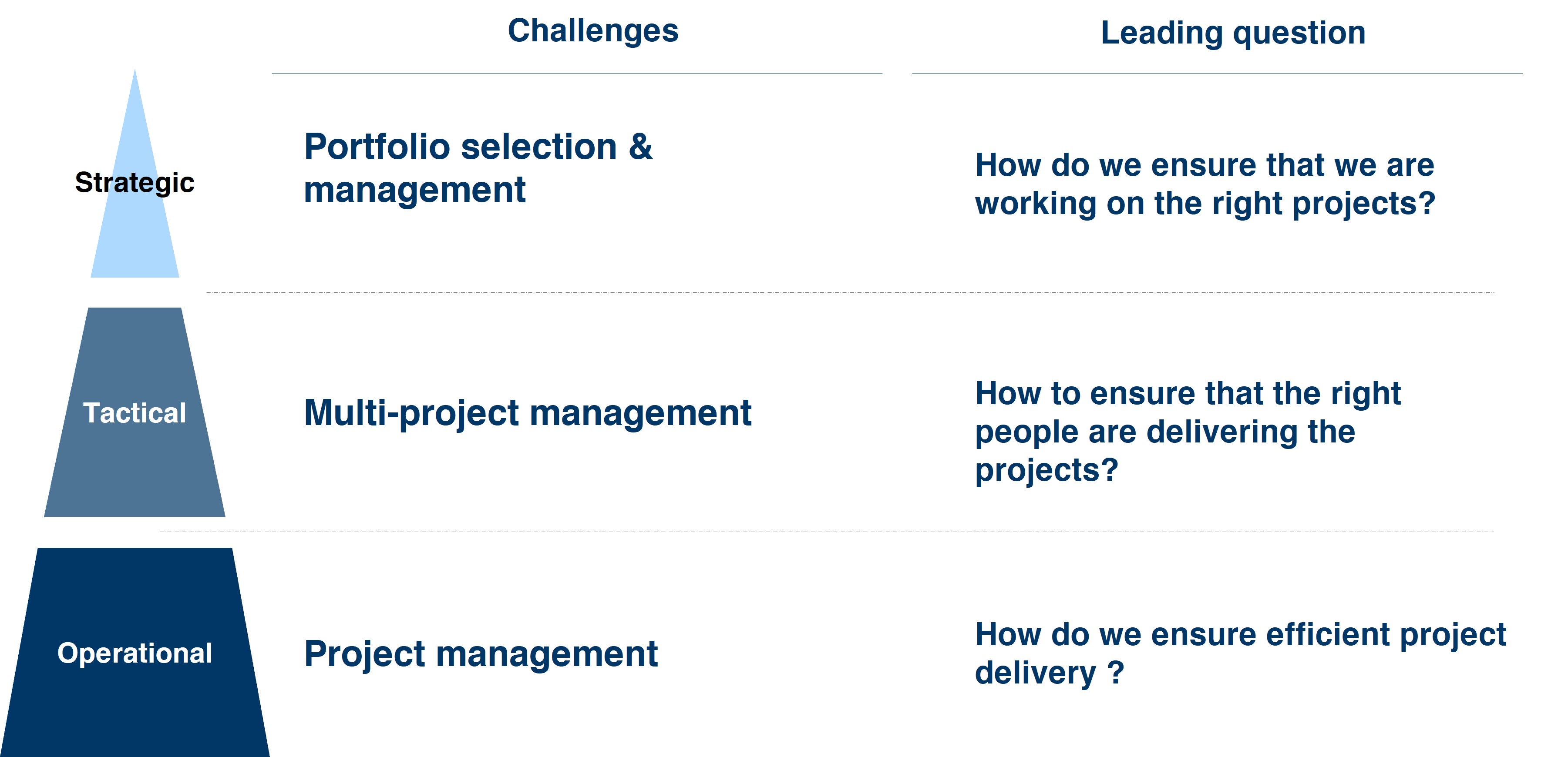 Projects prioritization, talent management, delivery efficiency, delivery reporting, etc. Many of these topics are frequently raised as pain points to bridge R&D strategy and execution.
We assess and improve Projects Portfolio performance through 3 layers:
Strategic (portfolio selection & management)
Tactical (multi-projects management)
Operational (individual projects management)
We can share industry challenges and best practices in every layer, such as innovation portfolio management, Supply vs. Demand management, Minimum Viable approaches (MVx), projects scalability, or Earned Value Management.
4. Deploying Lean Engineering
We work with clients to outline and reduce inefficiencies within their Engineering workflows. We have in our DNA a pragmatic and result-oriented approach. Building a baseline and focusing on impactful topics, mapping workflows (including inputs/outputs generated at each step), and evaluating improvements benefits. We also generate and implement Quick Wins to get adherence to the change.
Selected Credentials
1. R&D excellence progress plan for a major Aerospace & Defense Tier-1
We performed a maturity assessment & designed an updated operating model on 4 specific axes:
The re-use strategy
The projects portfolio management
The projects costing & estimating
The risks management
We interviewed 30+ people from Project Managers to Departments heads and technical experts, next conducted design workshops and translating concepts into real-life within the implementation phase. Concrete results were as examples a new portfolio of products building blocks, an updated projects decision-making system with clear arbitration rules. Projects dashboards with key information and Earned Value management metrics, an updated 3 points projects costs & scheduling tool. And finally a new risks management system based on development activities within the lifecycle process.
2. R&D Project Management progress plan for leading Medical Equipment manufacturer
Following an important growth (organic and external), and multi-cultural challenges, we conducted a large transformation project on the R&D Project Management of our client. We worked on the Portfolio governance, individual projects management practices, and had a dedicated workstream on Project Management community empowerment. We conducted interviews to gather axes of work, design workshops to design the target ambition and build the plan. As a result, we were able to support the execution. This led to the creation of a global Project Management community, a booklet of new practices guidelines, and extended on-field communication and support. We also prepared the ground for a global Center of Excellence to sustain the changes.
3. Project efficiency diagnostic for a hydraulic systems manufacturer
We supported our client in evaluating the root causes of their product development projects inefficiency and proposed corrective actions accordingly. We ended with an ambition to cut by 40% the average lead time for complex projects and by 20% the average costs. By putting in place a prioritization system and reducing the overall multitasking. We also proposed the implementation of a dedicated projects portfolio management system for sustainable results and a change management organization for the implementation of initiatives.
4. Running a Lean Engineering & Risk mitigation project for a Electrotechnical Equipment manufacturer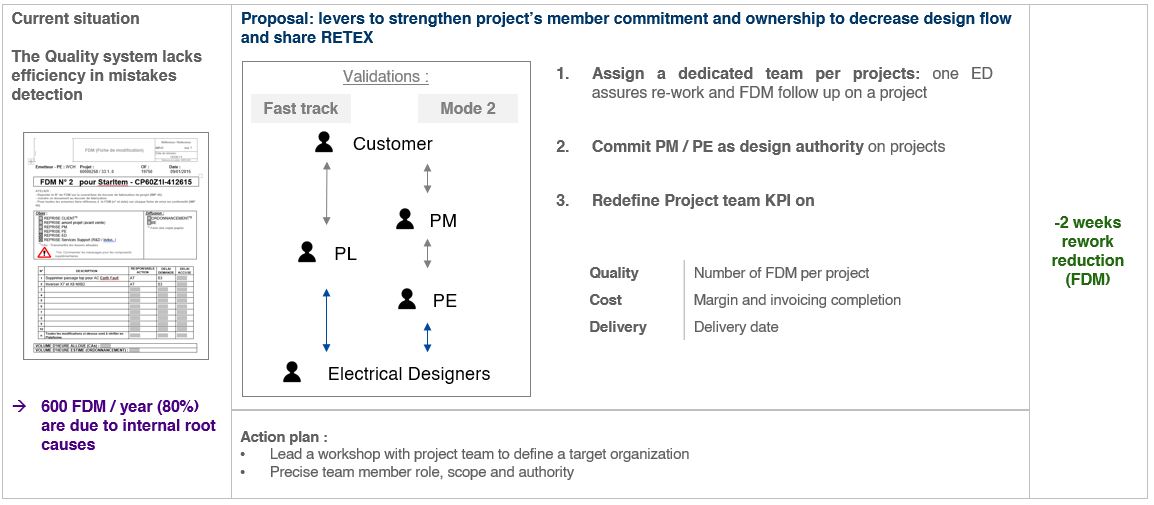 Our client was facing a fast development of its activity, with a challenge to deliver its commercial projects. We first mapped projects lifecycle activities and consolidated a time and cost baseline; next through dedicated workshops we identified the key areas of inefficiencies and mitigated risks. The result was the identification of 5 workstreams: Platforming and re-use during technical bid & contracting, Resources management, Project execution efficiency, Supply Chain management, After-Sales and MCO management – with a projected outcome of 18% overall projects costs reduction.
5. Building R&D communities of practices for a leading Aerospace & Defense Tier-1
We worked on a global Engineering transformation plan initiated by our client – specifically on a Global BU and 14 Engineering fundamentals – from development initiation to delivery and support. We first assessed the organization maturity and set targets on 15+ projects. Then we related maturity improvement targets and efforts to define project stakes and secured internal project management buy-in. In a third step, we animated cross-fertilization R&D communities by fundamental, linking advanced with less mature projects. Also we initiated experience-sharing sessions within the company network, thus fostering a social learning culture within the organization.