On the occasion of the International Women's Rights Day, our team decided to support the association libres terres des femmes.
Libres terres des femmes is an association that fights against violence on women (more info here).
To support them, a part of our Parisian office took part in the event "Race for equality".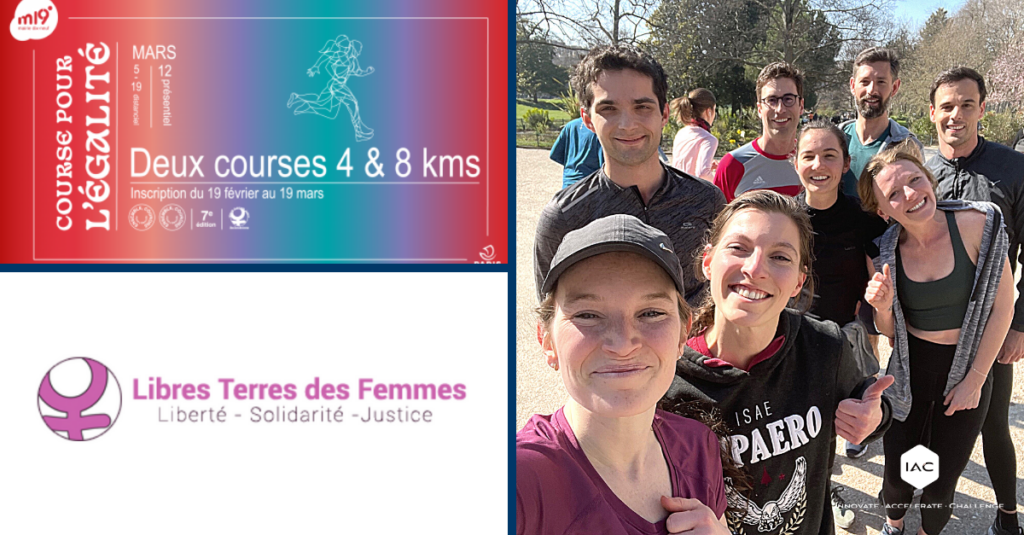 Our consultants have their say! Find out what they think about the job of Consultant, the atmosphere within IAC Partners:
Ludivine Dupont
Being consultant is a way to challenge myself continuously. Self-Confidence is a feeling that needs to be built and worked-on, especially for women. Facing challenges across various fields & industries (some really technical), learning and over-coming the difficulties is my way of working on it, showing and knowing that i'm capable. At IAC partners, I am able to do this, and also to take part on internal activities, being a driving force of my environment.
Mathilde Le Bail
Trained as an engineer, I decided to join IAC a month ago after a first internship at IAC 2 years ago! IAC combines "technical" engineering profiles (but not only!) with a respect and promotion of women's careers in the company, and allows me to grow as a consultant.
Léa Chalon
Curious and energetic, I love discovering several types of industry through various missions. Being a consultant is an opportunity to work with people who have different backgrounds. I learn from the others to grow and become a better engineer. At IAC Partners, one of the main values is confidence, that's why we have a lot of autonomy in our work. It's rewarding and it gives me motivation to always surpass myself.
Chourouc El-Husseini
As a new consultant at IAC Partners, I can tell you that IAC Partners embraces diversity and made me feel integrated from day one.

IAC Partners is allowing me to prove my determination to succeed as a women in consulting by giving me responsibilities, trust and autonomy in my projects.

For me consulting was always a way to face challenges, find solutions and strategies to evolve in any kind of environment. It also represents the woman of today, facing many challenges and never giving up.

Keep fighting for your ambitions and continue to progress every day!
Alix Goupil
Knowledge is a driving force in our society. Reserved for men for centuries, the right to education and access to knowledge is a fundamental right that should in no way be linked to our social origin or our gender.

It is driven by this desire to learn that I did a thesis in biology, to push the limits of knowledge. Then I joined IAC as a consultant to continue to challenge myself, every day and to learn in various fields. The message I would like to pass on to everyone is to dare to contribute to the construction of this knowledge.
Tangible results at each mission